How to provide remote support with Quick Support¶

We are fully aware that providing fast technical support is essential for any present-day business, especially during an intense struggle to gain and retain customers. Therefore, we pay special attention to developing simple remote access solutions, including Quick Support.
What is it?¶
Quick Support is specifically designed to provide fast remote assistance. We have made connecting to a client as simple and straightforward as possible.
How it works?¶
Quick Support offers two options for connecting to a client depending on an incoming assistance request form (verbal or in writing):
by link
by numerical code
Let's consider each of them.
Connection by link¶
If you conduct a dialog with a client in writing (by e-mail, via a chat or other system), simply send an invitation link. Create an invitation and receive the link on the Quick Support page.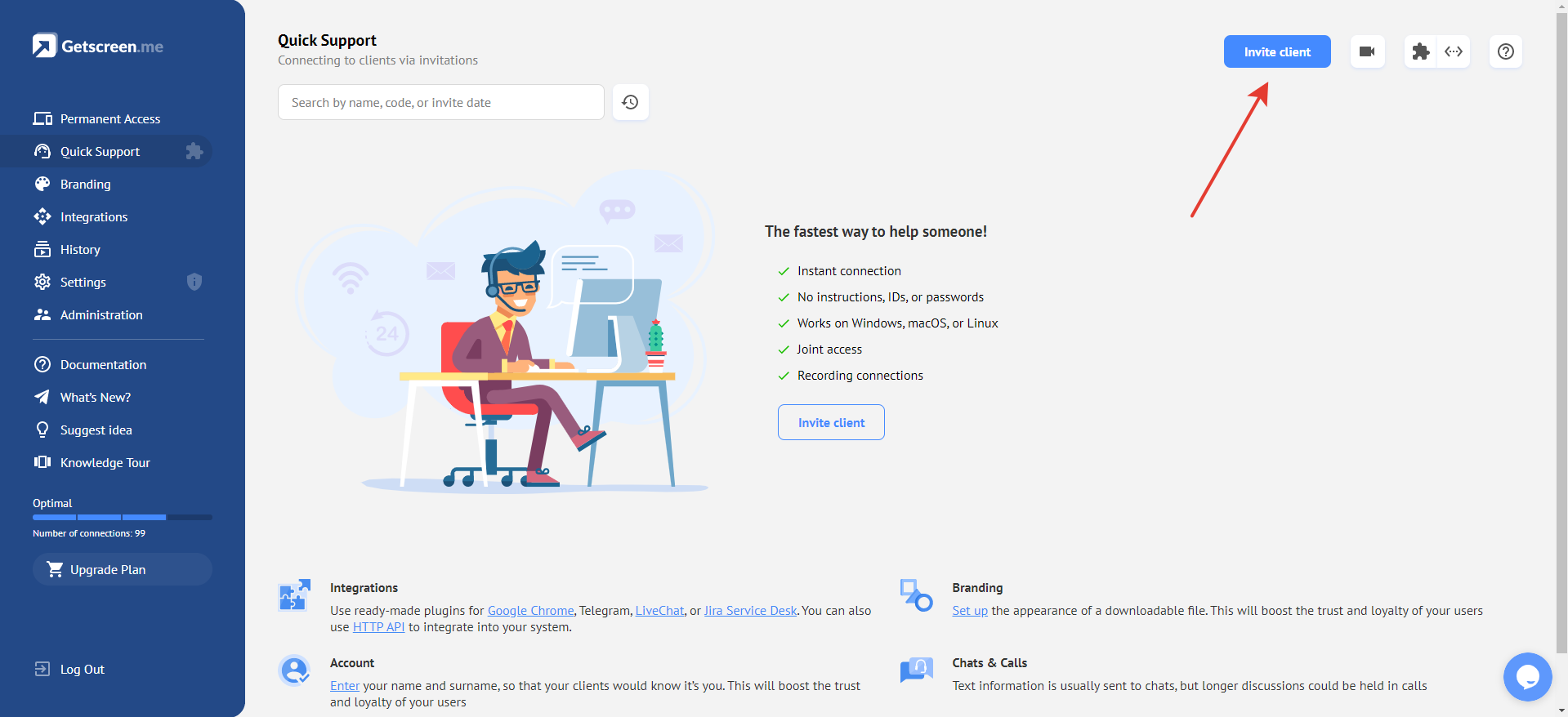 In the invitation window, copy the link and specify the client's name for identification: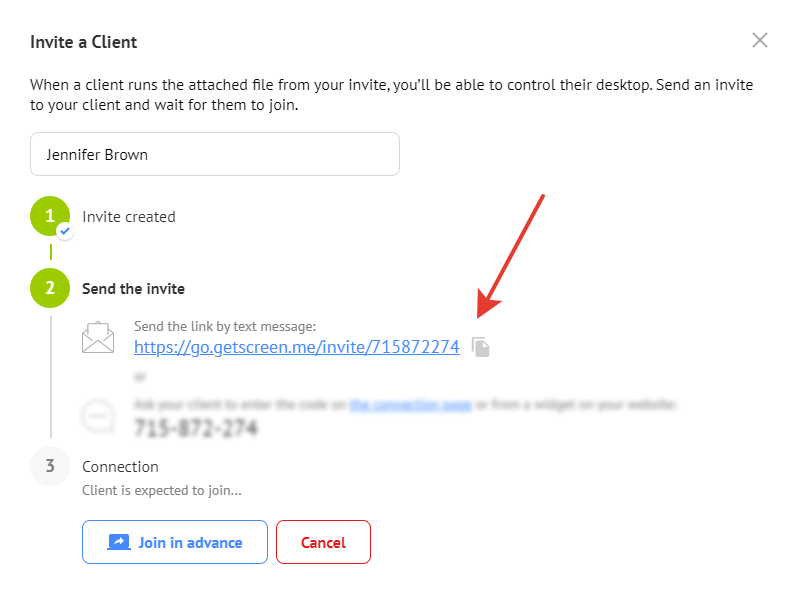 After clicking the link, your client will see a small prompt to establish a remote access session. The message will feature a small attached file (only 2 MB) that should be downloaded and run: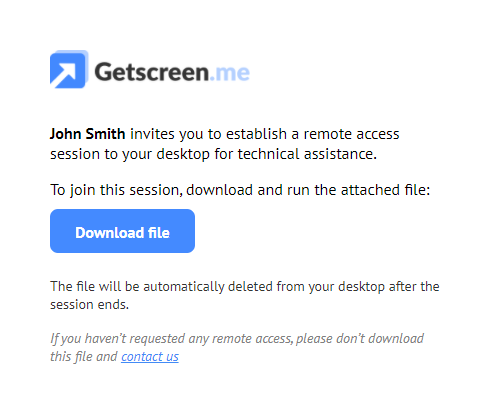 After that, a remote desktop thumbnail will appear in your window. You just have to join. No settings, passwords or IDs are required.

After the connection is complete, the invitation file on the client desktop is deleted automatically.
Connection by numerical code¶
If you communicate with your client verbally (by phone), using long links is inconvenient. In this case, use a 9-digit numerical invitation code: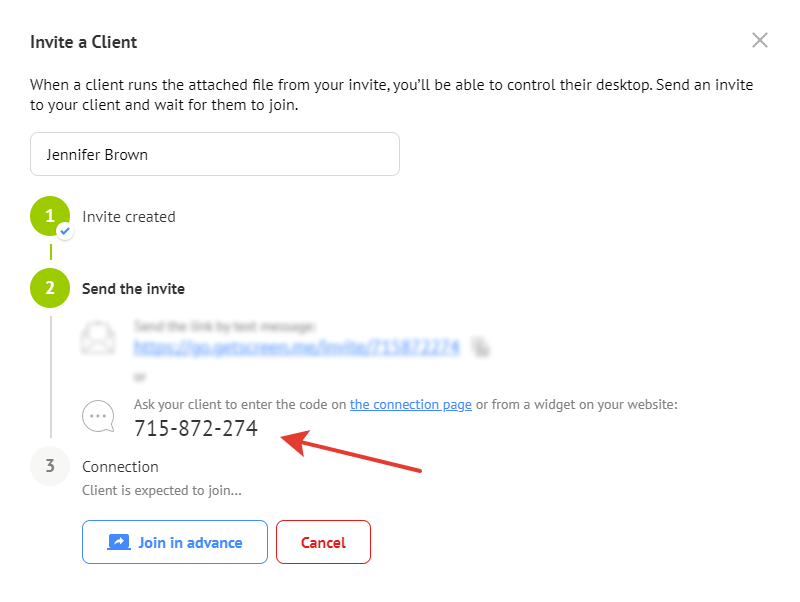 Ask your client to go to getscreen.me/join and enter the code into the appropriate field: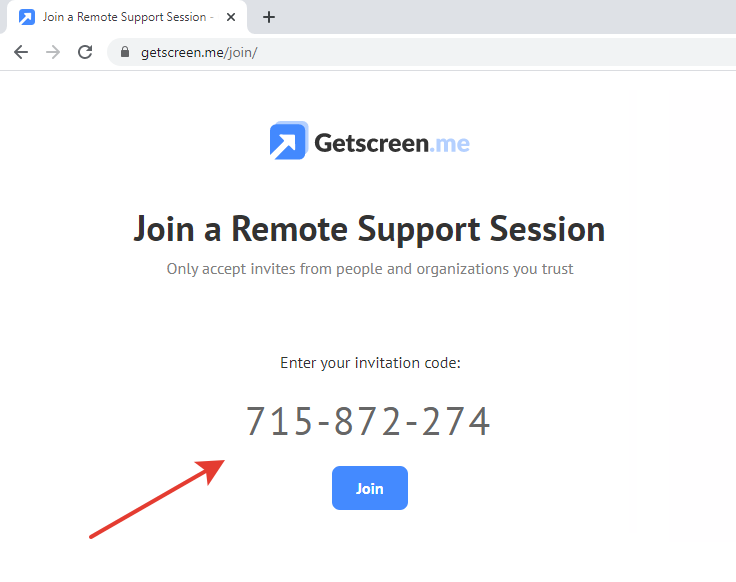 You can add a form for entering an invitation code to your site using a special widget. Find out more in the documentation.
After entering the invitation code, your client is redirected to the invitation page described above.
Waiting for client¶
Clients do not always launch the invitation file immediately. This may happen in a few minutes or even hours. You can set up notifications in order not to miss that moment.
We use our Telegram bot as a notification delivery service. You can connect it to your Getscreen.me account in the Integrations section of your personal account. Find out more about integration with Telegram.
After the integration, you will receive notifications about your client connection right in the messenger: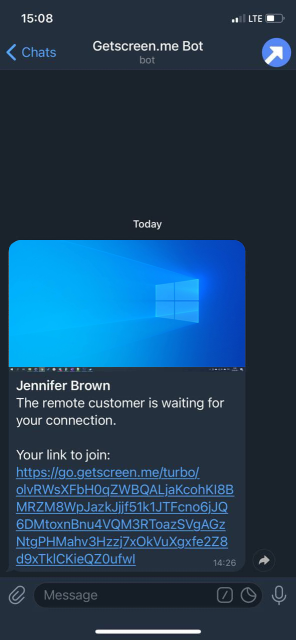 Integration with your system¶
If you use specialized CRM, HelpDesk or LiveChat systems for working with clients, you can implement direct remote access using ready-made integrations or HTTP API.
This means you do not need to visit your personal account every time you need to establish a remote access to your client. The integrations for the following systems are currently available:
Overall benefits¶
Technical support can be provided without additional programs and complex instructions, as well as without exchanging IDs and passwords. Your client only needs to make two clicks. It is as simple as that!

Save your time and money by choosing simple solutions.
If you have any ideas, feel free to share them on the suggestions page, or contact us or at info@getscreen.me