Serve your customers even faster with the Google Chrome extension¶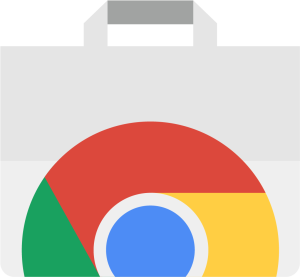 We have already written about our solution for technical support - Quick Support. It allows you to instantly connect to remote clients without any hassle.
However, web technology allows integrating fast support into your customer service platform.
One-stop Google Chrome extension¶
Google Chrome currently takes the lion's share of the browser market. This is why we decided to develop a single one-stop solution using the Google Chrome extension .
In addition, most client management systems (LiveChat, CRM, HelpDesk), including our solution, are based on web technology. This opens up great opportunities for integration.
How does the extension work?¶
The extension duplicates the Quick Support section functions. Now you do not have to switch to your personal account to work with clients. Work with them right within your platform.
To invite a client, just click the button in the extension window: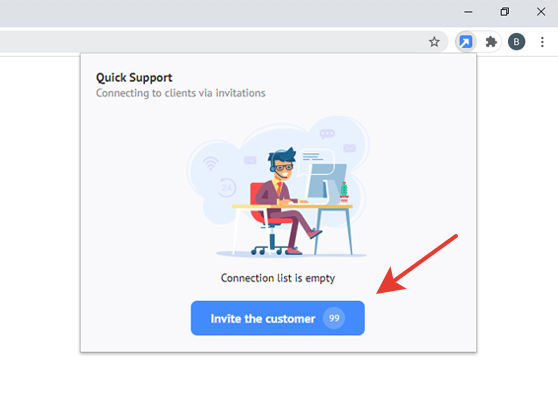 The number on the button indicates the remaining number of invites per day.
After creating an invitation, copy and send the link to your client: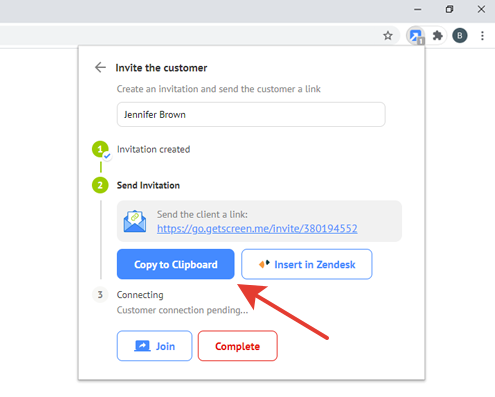 In case of popular platforms, the extension automatically extracts a name from a customer card and inserts the link into the correspondence: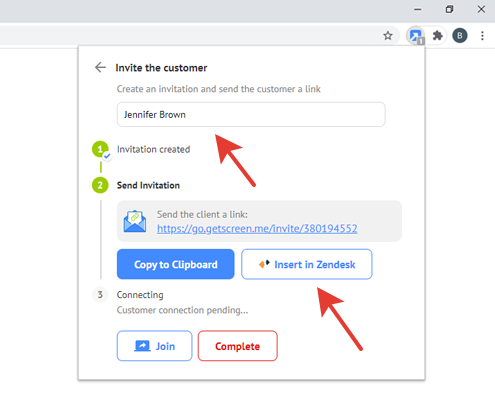 The following platforms are currently supported:
Tawk.to
Zendesk
Omnidesk
Okdesk
ServiceNow
Chatra
Jivo
Smartsupp
Pure Chat
Tidio Chat
Formilla
HelpCrunch
Chaport
Freshchat
Data as of May 21, 2021. The list is constantly updated. If you need a certain platform, please contact us at info@getscreen.me
After clicking the link, your client will see a prompt to establish a remote access session. The message will feature a small attached file (only 2 MB) that should be downloaded and run: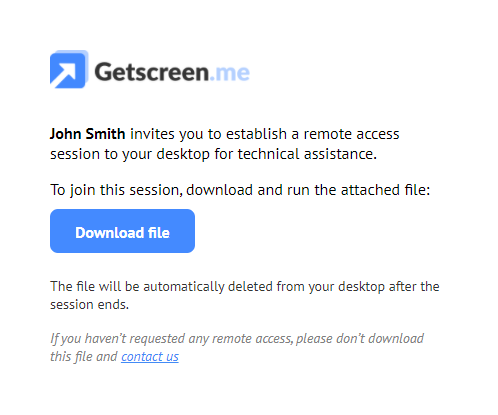 When the file is launched, the active connection mark appears on the extension icon: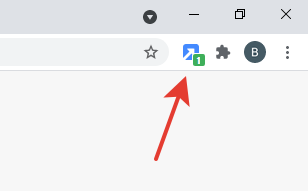 Set up a launch notification in Telegram to avoid waiting for a client to launch the attached file. Find out more about integration with Telegram.
Now you just have to join. No settings, passwords or IDs are required.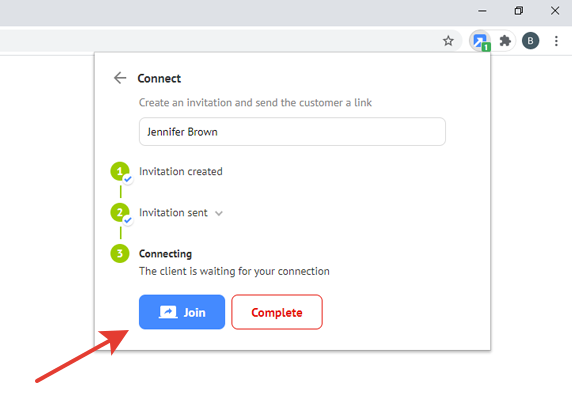 Create multiple invites simultaneously and manage them inside the extension: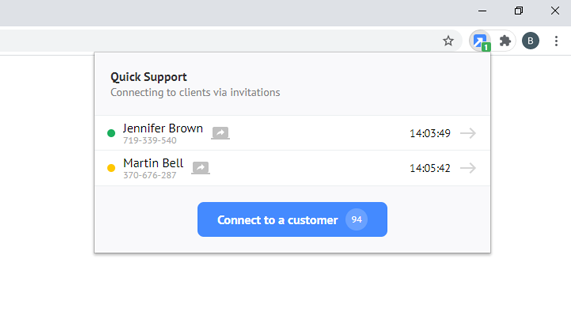 Please rate our extension here .
Download and install the extension
If you have any ideas, feel free to share them on the suggestions page, or contact us or at info@getscreen.me